JAZZ AND KLEZMER
She has composed for the groups in which she has played, either jazz or klezmer (see the discography) and was praised for Polka Dot Blues, included in the Jazz Around the World Putumayo compilation (2009) 
https://www.putumayo.com/jazz-around-the-world; a Spanish compilation Cappuccino vol.10 (2017) 
https://store.grupocappuccino.com/es/store/products/_cappuccino-grand-cafe-pepe-link-selection-vol-10_15.php and used as music theme of the animation short cut Any Witch Way, Sandrine Denault, Québec, (2014) https://vimeo.com/97285001
SILENT MOVIE
She was asked by the British Council in Mexico to create the music to accompany the Hitchcock silent movie The Lodger 1927 in the context of the 2015 International Book Fair of Guadalajara, Great Britain being the guest country. She gathered a group of 6 musicians to play her compositions during the show, en el Cineforo in Guadalajara, Jal., Mexico. A short documentary explains this process (in spanish).
https://www.youtube.com/watch?v=UphJtejRx-Q&t=1s
THEATER, DANCE, MULTIDISCIPLINARY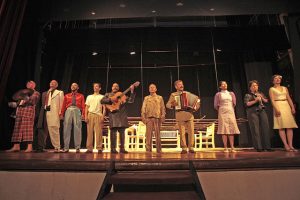 In the last 15 years, immersed in the creative works of fellow actors, dancers, painters and stage directors, she has played and composed for theater plays, choreographies, multidisciplinary events in a dialogue with their stage directors/choreographers.
•  Justine Schmitt, Une chose puis une autre, the diary of Alix Cléo Roubaut, Paris, 1989
•  Miguel Lugo, (La Nada Teatro): 
•  El Pozo de los mil demonios, 2003: the odyssey of girl who has to lead battles against the drought demons in order to save her life and her soul.
•  Solitarios Perdedores, 2004: two bickering brothers, a depressed priest and a lonely young woman act out a representation of the seven capital sins.
•  Animalario, 2005: a performance of poetry, movement, painting and music around bestiary themes.
•  Desierta Piel, 2005: a multimedia/one woman show of singer Jaramar. Inspired by the Letters of the Portuguese Nun: the passionate letters, often ascribed to a 17th-century Franciscan nun, Mariana Alcoforado (1640–1723). The letters were said to have been written to her French lover, Noël Bouton, Marquis de Chamilly who leaves Portugal with the french troupes and lets her stay alone in the convent, in Beja, Portugal. Show presented in various theaters in Mexico, 2005.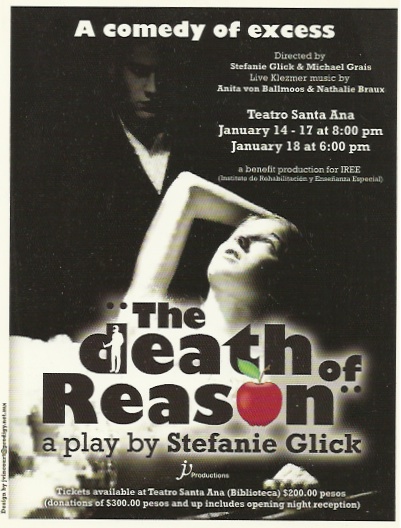 •  Gabriela Cuevas, Machis, Mujer Laguna, 2005-2008 in duo with percussionist Héctor Aguilar. Muestra Internacional de danza contemporánea, venues in Mexico.
•  Víctor Castillo, (Piedra de Sol) El Viaje, 2003, the last minutes of a man in an extreme situation, who can't go and repair the past.
•  Carmen Pérez Borrayo, (Musarteti) Inadaga la Vida: The monologue of a man fighting with alzaimer desease, whose title is a pun on the Iron Butterfly piece In a Gadda da Vida, 2007. 
•  Beto Ruiz, (State Theater Company), El Gesticulador, 2010: César Rubio, an unemployed professor, settles with his family in a small town in the north of Mexico where he is confused by an American university professor for a lost hero. Cesar Rubio embraces the idea of honors and power for the next elections. Venues and tour in Jalisco, Mexico. 
• Miguel Ángel Gutiérrez, (Luna Morena): 
•  Martina y los Hombres Pájaros: A play which shows the migration problem from a child's perspective. More than 100 shows, and FIL Los Angeles 2013.
•  Ángel de papel, 2013: A homeless lady, Clara, collects pieces of paper to which, with scissors, she gives forms during the night. One day, a little angel of paper with a broken wing lands in her life and their mutual love changes their lives.
•  Carlos Esqueda: 
•  La casa de Bernarda Alba: the events of a house in Andalusia during a period of mourning, in which Bernarda Alba the mother and widow wields total control over her five daughters. The play explores themes of repression, passion, and conformity, 2011. Composition, sound effects and playing on stage. 
•  Gallos salvajes, 2012: The difficult reencounter of a son, sexually abused by his father, now a drug lord. He is waiting for revenge. 
•  Ricardo Castillo, Asfixia erótica, 2014: Two actresses caught in a closed world act up a love hate/ desire rejection relationship. Co-composition with Alfredo Sánchez.
•  Karina Hurtado (Anima Escenica):
•  la Historia de la Oca, (The Tale of Teeka), 2015: A battered child, Mauricio, has taken refuge in a fantasy world. He invites his pet goose, Teeka, into the house but his parents unexpected return forces Maurice to commit a desperate and cruel act of violence.
•  Los Cuervos no se peinan, 2018: Emilio, a baby crow, chooses a woman for a mother, and little by little adopts the habits of the humans. The play confronts the themes of bullying, friendship, dialogue, fears and tolerance.
MUSIC DESIGN
•  Susana Romo, Malas Palabras, 2012. 
•  Daniela Casillas, Papa esta en la Atlántida, 2013.
•  Ihonathan Ruiz, Los Sueños de Pako, Teatro Alarife, 2014.
•  Renata Romo, Abdicación, 2017.